Thermal Scanner to Combat COVID-19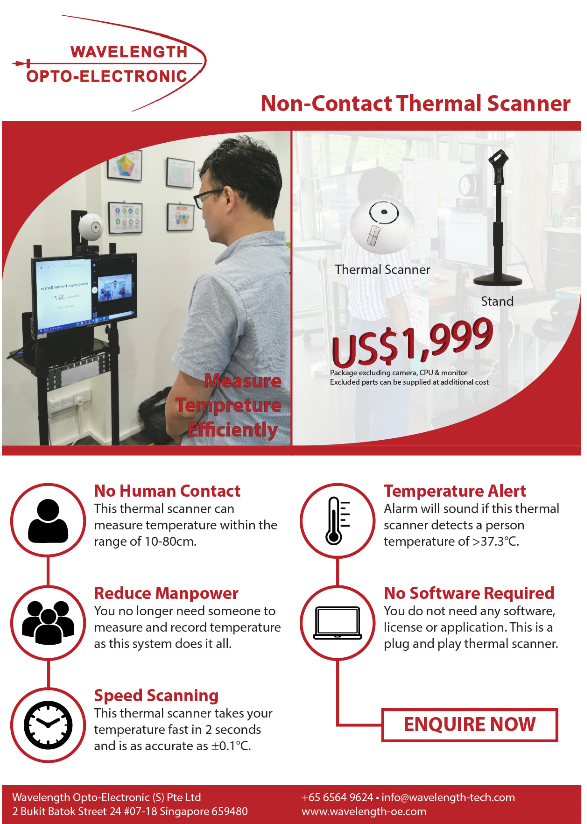 NON-CONTACT THERMAL SENSOR
KEY FEATURES
Wide field of view

Automated scanning.

Fast and Accurate

Reduce manpower.

Can set a customizable alarm temperature.

No Software/license required to buy.

Designed and calibrated for skin temperature.

Easy to install and use

Affordable.
Schools and Day care centres.

Government Institutions.

Offices.

Small, Medium and Large businesses.

Factories and Warehouses.

Hotels.

Restaurants.

Venues, Theatres and Arenas.

Nursing Homes.

Gyms and other sport facilities.
SPECIFICATIONS
Measurement field of view : 70° – 110°

Measurement range : 10 – 80cm

Measuring Temperature : 20°C – 40°C

Environmental Temperature : 20°C – 30°C

Data update frequency : 4 fps

Temperature accuracy : ±0.2°C

Supply voltage : 5 – 12V

Protocol : 2.4G Wi-Fi

SD card storage : upto 32GB

Storage format : .csv

Scan measurement time : 2sec

Stand length : 0.4m (for table top stand);
2m (full length stand)
2020-04-14